Tampa Transvaginal Mesh Attorneys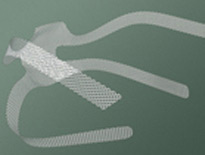 On July 13, 2011, the FDA issued a public advisory about synthetic polypropylene mesh which is commonly used during transvaginal surgeries to correct female gynecological problems such as pelvic organ prolapse (POP) and stress urinary incontinence (SUI). The surgical mesh is made from porous synthetic material and is permanently implanted in women transvaginally. It is estimated that physicians in the U.S. performed as many as 75,000 surgeries a year utilizing these mesh products. If you live in the Tampa area and have suffered a serious complication following mesh repair surgery, you should speak with the Tampa transvaginal mesh attorneys at Alley, Clark & Greiwe about your legal rights.
Transvaginal Mesh Problems
From 2008 to 2010, the FDA received more than 1,500 Adverse Event Reports related to complications associated with a synthetic vaginal mesh. The FDA's 2011 advisory warning concluded that serious complications associated with surgical mesh for transvaginal repair of pelvic organ prolapse were "not rare" as had been previously reported. The FDA found that erosion of mesh through the vagina was the most common and consistently reported mesh-related complication from transvaginal POP surgeries using mesh. Additional adverse events included mesh contraction (shrinkage) which resulted in vaginal shortening, vaginal tightening, and vaginal pain in some women. Both mesh erosion and mesh contraction may lead to severe pelvic pain, painful sexual intercourse, or an inability to engage in sexual intercourse. Also, men may experience irritation and pain during sexual intercourse when the mesh is exposed after erosion. Vaginal mesh erosion can require multiple surgeries to repair and can be debilitating for some women. In some cases, even multiple surgeries will not resolve the complications.
Serious Complications Associated With Surgical Mesh Products:
Infection
Extreme Pelvic Pain
Bleeding
Dyspareunia (Painful Intercourse)
Erosion/Protrusion of Mesh Through the Vaginal Wall
Vaginal Scarring/Deformity
Multiple Surgeries to Remove Embedded Mesh
Urinary Problems
Background of Transvaginal Mesh
Mesh products first came on the market in the 1950s for use in hernia repairs. In the 1970s, surgeons began using the mesh "off-label" for abdominal procedures, and for vaginal procedures in the mid-1990s. Under the FDA's controversial 510(k) process, the agency cleared the product to be used in vaginal procedures in 2002 without requiring new studies demonstrating their safety or effectiveness since mesh products were already in widespread use and were "substantially equivalent" to mesh products already on the market.
Manufacturers/Model Names of Vaginal Mesh Products 
The serious medical problems associated with vaginal mesh have not been associated with just one particular brand of mesh. If you are uncertain the type of mesh that was used during your surgery, you should contact your surgeon. Also, if you have any signs or symptoms of extreme pelvic pain, our transvaginal mesh attorneys in Tampa recommend that you should see your physician immediately for evaluation.
The top manufacturers of vaginal mesh include:
Apogee
Perigee
Mini-Arc Sling
Monarc
Influence In-Fast
In-Fast Ultra
Elevate
Bio-Arc
SPARC
Pinnacle
Advantage
Obtryx
Lynx
Prefyx
Solyx
Posterior Uphold
Uretex
Pelvisoft
Avaulta
Pelvilace
Pelvicol
Align
Pelvitex
Gynecare
Gynemesh
Prolene Mesh
Mass Tort Claims
Claims involving transvaginal mesh are considered a "mass tort." Mass tort claims involve numerous injured persons harmed by the same product or event. Previous examples of mass tort claims include recalled hip implants, or recalled drug products like Vioxx, the diet drug combination fen-phen, or hormone replacement therapy (HRT) litigation, just to name a few. Events like exploding airbags, airline crashes, and oil spills are considered mass torts.
Mass torts are not the same as a "class action" which is a common misconception. In many instances, a mass tort is litigated in what is called multi-district litigation (MDL). This type of centralized litigation is not the same as a class action. Unlike a class action, individual lawsuits filed all across the United States remain stand-alone lawsuits, but they will be transferred to one jurisdiction and assigned to one federal court judge. Product liability cases are often good candidates for MDL because they involve a large number of people similarly injured by a particular product. The MDL process is a mechanism that allows the pretrial procedures of hundreds or even thousands of similar cases to be consolidated before a single judge, with the intention of avoiding inconsistent rulings, completing generic discovery and conserving the resources of the parties involved.
In the transvaginal mesh litigation, The Judicial Panel on Multi-District Litigation (JPMDL) chose the Honorable Judge Joseph R. Goodwin to preside over the MDLs for claims involving the following manufacturers: C.R. Bard, American Medical Systems, Boston Scientific, Ethicon Inc. (Johnson & Johnson), Coloplast Corporation and Cook Medical. These MDLs have been centralized in front of Judge Goodwin in the United States District Court, Southern District of West Virginia. Our firm is presently litigating a large number of claims for injured women before Judge Goodwin in the federal court proceedings in West Virginia.
The Tampa transvaginal mesh attorneys at Alley, Clark & Greiwe are experienced in claims involving mass tort projects. For nearly three decades, our attorneys have successfully represented thousands of injured persons in Tampa and throughout the State of Florida in various complex product liability and mass tort claims against the makers of dangerous drugs and unsafe medical products. These cases have involved claims against diet drug manufacturers, hormone replacement therapy, big tobacco, breast implant manufacturers, as well as claims involving Baycol, Vioxx, Bextra, ProtoGen bladder slings, and various hip and knee implant manufacturers.
Are You Planning Surgery with Transvaginal Mesh?
Thousands of women suffering pelvic organ prolapse are treated with synthetic mesh each year, but reports indicate surgery can often be performed safely and effectively without the need for a mesh. If you are considering this type of surgery in the near future, be certain to ask your doctor if mesh will be used during your surgery. Also, talk to your surgeon about all available treatment options, including surgical repair without mesh and non-surgical options.
Contact Our Tampa Transvaginal Mesh
Attorneys 

for a Free Consultation

If you or a loved one have suffered a serious complication following mesh-repair surgery for pelvic organ prolapse or stress urinary incontinence, please contact the experienced transvaginal mesh attorneys at Alley, Clark & Greiwe in Tampa for a free consultation about your legal rights.
Consumer Information on Vaginal Mesh Claims