Breast Implant Cancer (BIA-ALCL)
TEXTURED BREAST IMPLANTS LINKED TO RARE LYMPHOMA
Since the introduction of breast implants in the 1960s, their safety has been debated extensively, even resulting in a temporary ban on silicone-gel implants for cosmetic indications by the FDA from 1992-2006.  Today, breast augmentation is the most popular cosmetic surgical procedure in the U.S. and rates of breast augmentation and implant-based reconstruction are increasing each year. 
FDA WARNING IN 2011 - POSSIBLE LINK BETWEEN BREAST IMPLANTS AND A VERY RARE FORM OF LYMPHOMA
In 2011 the FDA identified a possible link between breast implants and a very rare form of non-Hodgkin's lymphoma of the breast called anaplastic large-cell lymphoma (ALCL).  The FDA warning reads, in part:
"Although ALCL is extremely rare, the FDA believes that women with breast  implants may have a very small but increased risk of developing this disease  in the scar capsule adjacent to the implant. Based on available information, it  is not possible to confirm with statistical certainty that breast implants cause  ALCL. At this time, data appear to indicate that the incidence of ALCL is very  low, even in breast implant patients. Currently it is not possible to identify a  type of implant (silicone versus saline) or a reason for implant (reconstruction versus aesthetic augmentation) associated with a smaller or greater risk.
The FDA is interested in learning more about the actual incidence of ALCL in women with breast implants, the characteristics of breast implants that might increase the risk of ALCL, and the pathological characteristics and clinical features of ALCL in women with breast implants. To this end, FDA is collaborating with the American Society of Plastic Surgeons to establish a registry of cases of women with breast implants who have been diagnosed with ALCL."
By 2016 the World Health Organization recognized breast implant-associated ALCL (BIA-ALCL) as a rare T-cell lymphoma that can develop following breast augmentation.  
By February 2017 the FDA had received 359 reports of BIA-ALCL including 9 deaths.  According to the FDA, most confirmed cases of BIA-ALCL occurred in women with textured breast implants rather than smooth-surfaced implants regardless of filling type. 
There have been wide variations in estimations for the risk of breast implant–associated ALCL ranging from 1 in 3,000,000 to 1 in 1,000 patients. 
JAMA SURGERY STUDY IN 2017 INDICATES BIA-ALCL UNDERREPORTED AND MISUNDERSTOOD
In October 2017 a review was published in JAMA Surgery which suggested BIA-ALCL was increasing in incidence and likely underreported.  The authors noted that there were significant limitations in worldwide reporting and a lack of a global breast implant database which made the exact number of cases of BIA-ALCL difficult to determine.   
The researchers said almost all of the cases of BIA-ALCL were associated with textured implants, which have a slightly rough surface that keeps the implant in the correct position.  Textured implants rose in popularity in the 1990s, and the first case of BIA-ALCL was documented in 1997. The researchers said that because they could find no incidents of BIA-ALCL prior to the introduction of textured implants, this suggested a causal relationship, although more research was needed.
After reviewing the literature, the researchers believed that BIA-ALCL occurred as a result of inflammation surrounding the breast implant and tissue that grows into the tiny holes in the textured implant may prolong that inflammation. Previous research has shown that chronic inflammation can lead to lymphoma. 
BREAST IMPLANTS CANCER RISK HIGHLIGHTED IN NEW 2018 STUDY
In January 2018 yet another study in the medical journal JAMA Oncology indicated textured breast implants appear to carry a 400-fold increased risk of breast anaplastic large-cell lymphoma (ALCL).  While the overall risk of breast ALCL remained small, researchers indicated their findings almost guarantee a causal connection between breast implants and the cancer.  Researchers looked at data from a nationwide Dutch pathology registry from 1990-2016 to identify all patients diagnosed with primary non-Hodgkin lymphoma of the breast. They looked at data on breast implant status, patient's ages, and other types of breast lymphoma.  According to the findings, 32 patients out of 43 with breast-ALCL had breast implants.  Of the cases the researchers found, 82% involved macrotextured implants.  Researchers concluded:
"Based on what is the largest population-based study conducted thus far, with nationwide coverage of breast-ALCL cases in the period from 1990 to 2016, we now confirm that implants strongly increase the risk of this rare type of lymphoma. Our relative risk estimate of over 400, implying an attributable risk approaching 100%, is highly suggestive of a direct or indirect causal role of the breast implant in breast implant-associated ALCL (BIA-ALCL)."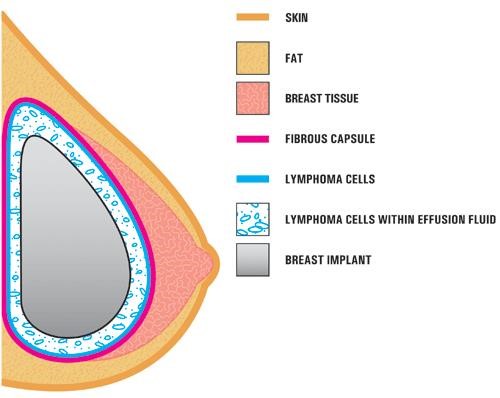 In the case studies reported in the literature, BIA-ALCL is usually found near the breast implant, contained within the fibrous scar capsule, and not in the breast tissue itself. Photo courtesy of FDA.
RECOMMENDATIONS
If you are considering breast augmentation, you should talk to your physician about the benefits and risks of textured-surface vs. smooth-surfaced implants.  If you already have breast implants, discuss appropriate routine surveillance with your physician.  
Implant-associated ALCL is often very difficult to diagnose, so it is very important that you notify your doctor immediately if you have any unusual breast symptoms such as persistent pain, lumps, swelling, or asymmetry.  
BREAST IMPLANT CANCER LAWSUITS
Information suggests that women with breast implants have a very low but increased risk of developing ALCL compared to women who do not have breast implants.  
Alley, Clark & Greiwe continues to litigate a number of medical device cases.  Each personal injury attorney at our law firm has extensive experience representing clients seriously injured due to defective medical devices and drug products.  Our firm is reviewing potential textured breast implant lawsuits for women diagnosed with anaplastic large cell lymphoma (ALCL).  If you have been diagnosed with non-Hodgkin's lymphoma of the breast, or ALCL from breast implants, please contact an experienced medical device attorney at Alley, Clark & Greiwe for a free consultation regarding your legal rights.
USEFUL LINKS
Click here to read the study from JAMA Oncol. published online January 4, 2018
Click here to read the study from JAMA Surgery from October 2017
Click here to visit the FDA's February 2017 update
Click here to visit the FDA's January 2011 preliminary findings report
Click here to visit the FDA's Q&A Page on BIA-ALCL
Click here to visit the WHO's recognition of BIA-ALCL
Click here to visit the FDA's breast implant website