Substantial Bleeding Risks Associated Pradaxa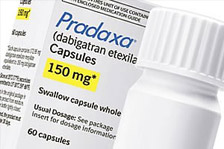 Our Tampa injury attorneys at Alley, Clark & Greiwe are investigating claims of persons severely injured while taking the blood thinner Pradaxa. Pradaxa, also known as dabigatran, is prescribed to prevent strokes and blood clots in people who have atrial fibrillation (AFib) without valvular heart disease. Pradaxa has only been available in the U.S. since the Fall of 2010, and is a new alternative to other anti-coagulants like Coumadin and Warfarin. While patients on Coumadin and Warfarin require frequent lab monitoring, patients on Pradaxa do not. It is this advantage that has been a key selling point.
If you are presently taking Pradaxa, please call your health care provider immediately if you develop any of the following signs or symptoms of bleeding:
unusual bleeding from the gums
nose bleeding that happens often
menstrual or vaginal bleeding that is heavier than normal
bleeding that is severe or you cannot control
pink or brown urine
red or black stools (look like tar)
bruises that happen without a known cause or that get larger
coughing up blood or blood clots
vomiting blood or vomit that looks like coffee grounds
Within weeks of its launch in the U.S., the FDA received an unusually high number of early adverse event reports about Pradaxa regarding the its effects on bleeding or clotting events, including hemorrhages (too much anti clotting effect) and thromboembolic events (too little clot inhibiting effect) such as pulmonary embolism and deep vein thrombosis. Some of the reports involved fatalities. Additionally, it has been determined that Pradaxa significantly increases a patient's risk of heart attack. An analysis of seven clinical trials published in January in the Archives of Internal Medicine found that Pradaxa was "significantly associated with a higher risk" of heart attacks and acute coronary syndrome, or ACS.
| | |
| --- | --- |
| Pradaxa | Key Timeline of Events |
| October 2010 | The FDA approves Pradaxa to prevent strokes in patients with non-valvular atrial fibrillation. The drug is marketed as an alternative to Coumadain (warfarin). |
| December 2010 | Within its first three months on the market, the FDA receives over 300 serious Adverse Event Reports relating to Pradaxa bleeding or clotting events, and some of the reported events included fatalities. According to the Institute for Safe Medicine Practices, there were more adverse events reported to the FDA regarding Pradaxa compared to 98.7% of other regularly monitored drugs. |
| August 2011 | Reuters reports that Japanese regulators – where the drug is sold as Prazaxa – request Boehringer Ingelheim (the drug manufacturer) to issue a safety warning notifying doctors about potentially deadly bleeding events in some patients. Regulators said doctors in that country need to be warned not only about the bleeding risk with the drug, but also warned that there is no antidote to counteract abnormal bleeding events. |
| October 2011 | University of British Columbia researchers point out flaws in "underreporting of events" in clinical trials used by Boehringer to gain FDA approval of Pradaxa. |
| November 2011 | Boehringer reveals that 260 cases of fatal bleeding events have been identified in patients taking Pradaxa. This number of alleged Pradaxa deaths is five times higher than the company cited earlier in the month when it said that 50 reported deaths were a "reasonable order of magnitude." |
| December 2011 | The FDA releases a Safety Communication announcement stating that it would be evaluating post-marketing reports of serious bleeding events in patients taking Pradaxa. |
| January 2012 | Doctors from the Cleveland Clinic conducted a meta-analysis based on data from seven Pradaxa clinical trials involving more than 39,500 patients. Cleveland Clinic researchers link Pradaxa to a 33% increased risk of heart attacks. |
Tampa Pradaxa Attorneys
If you or a loved one have suffered a stroke, heart attack, brain bleed, gastrointestinal bleed, or death while taking Pradaxa, please contact an experienced Tampa injury attorney at Alley, Clark & Greiwe for information about your legal rights.
Pradaxa Consumer Resources