Actos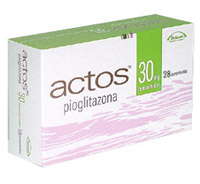 In September of 2010, the FDA began a formal safety review of the Type-2 diabetes drug Actos (pioglitazone) after receiving disturbing preliminary data mid-way through a 10-year clinical trial which showed a significant increase in bladder cancer among patients taking the drug. The data did not indicate an across-the-board risk of bladder cancer among all patients; rather, the risk of bladder cancer rose with increasing dose and duration of pioglitazone use. The study data showed a 40% increased risk of bladder cancer in patients taking the drug for more than one year.
New Warning of Bladder Cancer With Use of Diabetes Drug Actos
Recently, on June 16, 2011, the FDA officially announced that patients who use Actos for more than one year have an increased risk of developing bladder cancer. The risk for bladder cancer will be added to the labels of Actos (pioglitazone), Actoplus Met (pioglitazone/metformin), Actoplus Met XR (pioglitazone/metformin extended release), and Duetact (pioglitazone/glimepiride). The ten-year study on which the new warnings are based will be completed in 2012. The FDA says people currently taking Actos should continue taking it until advised otherwise by their health professional. Those who are concerned about the possible risk of bladder cancer should talk to their health care provider.
Facts About Actos (pioglitazone)
Actos had sales of $4.8 billion in the last fiscal year making it Japan-based Takeda Pharmaceuticals's best selling drug.
Pioglitazone is sole as a single-ingredient product under the brand name Actos. Also sold in combination with metformin (Actoplus Met, Actoplus Met XR) and glimepiride (Duetact).
Actos is used along with diet and exercise to improve control of blood sugar in adults with Type-2 diabetes.
From January 2010 through October 2010, approximately 2.3 million patients filled a prescription for a pioglitazone-containing drug.
Actos MDL Formed
On December 29, 2011, the United States Judicial Panel on Multidistrict Litigation transferred 11 civil action(s) involving Actos to the United States District Court for the Western District of Louisiana for coordinated or consolidated pretrial proceedings before the Honorable Rebecca F. Doherty. Multidistrict litigation (MDL) is litigation comprised of multiple civil cases involving one or more common questions of fact, but the cases are pending in different districts. Such actions may be transferred to any single district for coordinated or consolidated pretrial proceedings. Each of the actions transferred into MDL No. 2299 In Re: Actos Products Liability Litigation alleges claims arising from the use of Actos. Plaintiffs allege that individuals who use Actos face an increased risk of developing bladder cancer. Plaintiffs further allege that the defendants concealed their knowledge of this risk and failed to provide adequate warnings to consumers and the health care community. Defendants deny all allegations of fault.
Judge Doherty has set numerous deadlines for generic discovery which must be completed in order for the first Actos MDL trial or bellwether to commence. It is currently expected that the first trial in MDL 2299 will take place in November 2014. In the meantime, Plaintiff attorneys from across the nation will be engaged in a concerted effort to review millions of pages of documents produced by the Defendants as well as conducting depositions of key corporate employees and executives.
Tampa Actos Attorneys
If you are currently taking Actos, you should continue taking the medication until you discuss your concerns with your health professional. If you or a loved one has taken Actos, Actoplus Met, Actoplus Met XR, or Duetact and have been diagnosed with bladder cancer, please contact a Tampa Actos attorney with the law firm of Alley, Clark & Greiwe for important information regarding your legal rights.
Helpful Consumer Links on Actos