Benicar Claims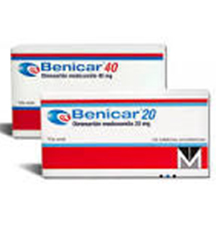 Benicar (olmesartan) is in the class of drugs called angiotensin II receptor blockers (ARBs). The drug was approved for sale in the U.S. in 2002. Approximately 1.9 million patients filled prescriptions for Benicar and other olmesartan-based ARB medicines in the U.S. in 2012.
Benicar works to keep blood vessels from narrowing, which lowers blood pressure and improves blood flow. In some people, it has been discovered that the Benicar can cause very serious gastrointestinal side effects including intestinal damage, chronic diarrhea, malnourishment and severe weight loss.
FDA Issues Benicar Warning
On July 3, 2013, the FDA issued a Drug Safety Communication warning that the blood pressure drug olmesartan medoxomil (marketed as Benicar, Benicar HCT, Azor, Tribenzor, and generics) can cause intestinal problems known as sprue-like enteropathy. FDA has approved changes to the labels of these drugs to include this concern.
Symptoms of sprue-like enteropathy include severe, chronic diarrhea with substantial weight loss. The enteropathy may develop months to years after starting Benicar, and sometimes requires hospitalization. Sprue-like enteropathy has not been detected with ARB drugs other than Benicar, and symptoms improved in all patients after discontinuing the drug.
Information for Patients Taking Benicar
Do not stop taking your high blood pressure medicine without first discussing it with your health care professional. When high blood pressure is not appropriately treated, strokes, heart attacks or kidney failure, or other serious harm can result.
Contact your health care professional right away if you take an olmesartan-containing product and experience severe diarrhea, diarrhea that does not go away, or significant weight loss.
Your health care professional may evaluate your symptoms to determine the cause. If no other cause is found, you may be asked to stop taking olmesartan and start taking a different high blood pressure medicine.
Discuss any questions or concerns about olmesartan with your health care professional.
Mayo Clinic Researchers Discover Link
The connection between sprue-like enteropathy and Benicar was first reported by Mayo Clinic researchers in June 2012. Between 2008-2010, Mayo doctors identified 22 patients all taking olmesartan who had chronic unexplained diarrhea and a median weight loss of 40 pounds, requiring hospitalization in 14 cases and total parenteral nutrition (intravenous feeding) in four. Initially diagnosed with possible celiac disease, none of the patients responded to a gluten-free diet and celiac disease was eventually ruled out in all cases.
In the Mayo research, all of the patients had used the drug for at least a year before developing symptoms, and some had taken olmesartan for more than 3 years. Intestinal biopsies revealed villous atrophy and evidence of mucosal inflammation in most of the patients. Seven patients had substantial subepithelial collagen deposits. After discontinuing olmesartan, the 22 patients gained an average of 27 pounds. Follow-up biopsies in 18 patients showed histologic recovery or improvement of the duodenum.
Since identifying the initial 22 patients with olmesartan-associated sprue-like enteropathy, investigators at Mayo have found at least 22 more cases among patient records. Reports from other centers and from individual patients have raised the total case count to more than 60.
Tampa Benicar Attorneys
Alley, Clark & Greiwe continues to litigate a number of pharmaceutical drugs cases. Each personal injury attorney at our law firm has extensive experience representing clients seriously injured due to defective medical devices and drug products. If you or someone you know have developed serious GI problems after taking Benicar, please contact Alley, Clark & Greiwe for a free consultation regarding your legal rights.
Helpful Consumer Information
Click here to read the FDA Safety Communication from July of 2013.
Click here to read more about the Mayo Clinic research.
Click here to read more facts about Benicar from the FDA.