Hip Implants - DePuy ASR Recall
Know Your Legal Rights: Tampa DePuy Hip Lawyer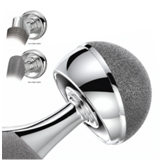 The DePuy Orthopaedics unit of Johnson & Johnson voluntarily recalled two types of hip implants on August 26, 2010.  Just one of the recalled products was sold here in the United States: the DePuy ASR XL Acetabular System hip implant.   Earlier this year, The New York Times reported that the FDA has received hundreds of complaints since 2008 from patients who experienced pain and other symptoms that led to revision surgery within the first five years of receiving the ASR hip implant.  New data indicates that approximately 13% of patients (or 1 in 8) with the ASR hip implant have suffered through a second hip surgery to remove the defective implant. Patients in Tampa who have undergone revision surgery for a DePuy hip implant should speak with an experienced attorney about their legal rights.
A hip joint is a type of "ball and socket" joint, and total hip replacement involves replacing both parts at once.  The ASR hip implant system, launched in the U.S. in July of 2003, is comprised of three components: the ball (or femoral head) connects to a stem and then fits inside the bowl-shaped socket (or acetabulum).   With an ASR hip, a concave metal piece is used to provide a smooth lining for the acetabulum. All components of the ASR hip implant are included in the recall.  Late last year, DePuy indicated it was phasing out the implants because of "slowing sales."  However, in March of 2010, the company warned doctors that the implants might have a high failure rate in some patients.
Several years ago, metal-on-metal hip implants became popular because the metal was thought to be more durable than traditional hip implants made of ceramic or plastic.  More recently, some orthopedic surgeons have soured on metal-on-metal hip implants.  Studies have shown that metal-on-metal hip implant components wear down quickly and generate metallic debris that can cause pain, inflammation, swelling, tissue damage around the joint, and bone destruction in some patients.  In April of 2010 British regulators issued an advisory on the metal debris generated by hip implants.  The FDA is said to be meeting soon with professional medical groups to discuss the British advisory on metal hip implants.
Reported problems with the DePuy ASR hip system include:
Loosening of the product from the bone
Bone around the implant may break
Dislocation/parts of the implant that move against each other are no longer aligned.
Symptoms of a failing hip implant include pain, swelling, or difficulty walking.  If you are experiencing any symptoms of pain or discomfort, you should contact your orthopedic surgeon for an evaluation. 
NBC Nightly News Segment on Metal-on-Metal Hips (Broadcast date: October 4, 2011)
ASR Hips Implants Linked to Cobalt Poisoning and Other Serious Health Concerns
On October 29, 2010, The Journal of Bone and Joint Surgery published a study of two cases of cobaltism in patients who were implanted with the now recalled metal-on-metal DePuy ASR hip implants.  Cobaltism, or cobalt poisoning, blocks cellular metabolism and can damage multiple organs.  Consequences of cobaltism include tinnitus, vertigo, deafness, blindness, optic nerve atrophy, convulsions, headaches, peripheral neuropathy, cardiomyopathy, and hypothyroidism.  The two 49 year-old patients in the study developed hip pain resulting from periprosthetic metallosis (the build-up of metallic debris in the soft tissues of the body from wearing of the metal hip) as well as neurological and cardiac symptoms due to significantly elevated serum cobalt levels.  There have been multiple case reports of cobaltism related to metal-on-metal hip implants, and the diagnosis is now referred to as arthroscopic cobaltism.
Neurological or cardiac damage caused by high cobalt levels is, in part, reversible with timely revision surgery.  Unfortunately, revision surgeries have been complicated by joint instability.  Joint instability has been reported to occur more frequently in hips that are revised because of tissue damage caused by metallosis.
How do you find out if you have an ASR hip implant?
Contact your orthopedic surgeon or the hospital where the surgery took place.  If you are unable to determine the type of hip implant you received, our Tampa DePuy hip lawyers will provide you with a release form to sign so that we may obtain the brand name and model number of the hip implant that you received.
The next step: Getting help from an attorney
The  attorneys at Alley, Clark & Greiwe have extensive experience in representing persons injured by defective joint replacement products and other defective medical devices. If you or a loved one have been implanted with a DePuy ASR hip implant device and have undergone revision surgery or suspect that you may need to undergo surgery in the future, please contact a skilled Tampa DePuy hip attorney with the law firm of Alley, Clark & Greiwe for important information regarding your legal rights.
Consumer Resources on the DePuy ASR Recall