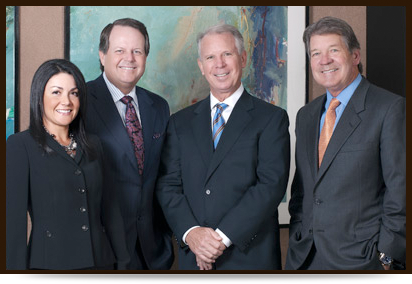 Alley, Clark & Greiwe
Tampa Personal Injury Attorneys
Committed Legal Representation for Personal Injury Claims
The downtown Tampa personal injury attorneys of Alley, Clark & Greiwe devote their entire civil practice to complex personal injury, mass torts, and medical malpractice cases throughout the State of Florida. Our civil trial attorneys have an average of over 30 years of experience in the following practice areas:
Medical Malpractice
Products Liability
Unsafe Drugs and Defective Medical Products
Wrongful Death
Auto, Truck, and Motorcycle Accidents
Nursing Home Abuse
Tampa personal injury attorneys C. Todd Alley, James D. Clark, and Don Greiwe are partners in the firm, and Tampa personal injury lawyer Katherine Chambers is an Associate with the firm. Our three partners are AV-rated by Martindale Hubbell. An AV-rating by Martindale Hubbell means that our peers and judges have rated us as having the highest levels of legal ability and professional ethics. Our Tampa personal injury attorneys are supported by a superior staff of Legal Assistants, all of whom have been with our firm for over one decade or longer.
After years of representing thousands of clients throughout the State of Florida, our firm has established a solid reputation of seeking justice for injured persons. Each Tampa wrongful death attorney at our firm is committed to obtaining the maxium compensation available for our clients. If you or a loved one has a question about a potential personal injury case or wish to inquire about our legal services, we hope that you will contact a personal injury attorney at our Tampa office for a free legal consultation.
Your Tampa Injury Attorneys Recognized for Excellence
On November 3, 2014, U.S. News Media Group and Best Lawyers® released the 2015 "Best Law Firms" rankings by state. We are proud to announce that for the fifth consecutive year Alley, Clark & Greiwe has been recognized with a "First Tier" ranking in the Tampa metropolitan area in both medical malpractice law and personal injury litigation. Achieving a high ranking is a special distinction that signals a unique combination of excellence and breadth of expertise.
Additionally, three Tampa injury attorneys from Alley, Clark & Greiwe were recently selected by their peers for inclusion in The Best Lawyers in America® 2015: Tampa personal injury attorney C. Todd Alley was selected in the fields of Personal Injury Litigation, Product Liability Litigation, and Mass Tort Litigation; Tampa injury lawyer James D. Clark was selected in the fields of Medical Malpractice Law, Personal Injury Litigation, and Product Liability Litigation; and Tampa medical malpractice lawyer Don Greiwe was selected in the fields of Medical Malpractice Law, Mass Tort Litigation, and Personal Injury Litigation. Previously, Don Greiwe was honored with the distinction of Lawyer of the Year for 2013 by Best Lawyers in the area of Plaintiff's Medical Malpractice Law.
Back to Top
Recent News

RSS NEWS FEED
Call Us
Phone: (813) 222-0977
Toll Free: (800) 840-0977
Fax: (813) 224-0373
Our Office:
701 East Washington Street Tampa, FL 33602
The firm offers convenient parking next to the building.
Mailing Address:
P.O. Box 3127
Tampa, FL 33601-3127