Vaginal Mesh Litigation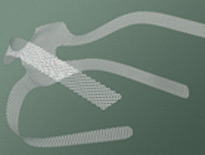 On July 13, 2011, the FDA issued a new advisory warning about plastic surgical mesh used during transvaginal surgeries to correct common female gynecological problems. The surgical mesh is made from porous synthetic material and is permanently implanted to reinforce the weakened vaginal wall to repair pelvic organ prolapse or to support the urethra to treat stress urinary incontinence. U.S. physicians perform about 75,000 surgeries utilizing these mesh products each year. From 2008 to 2010, the FDA received more than 1,500 Adverse Event Reports related to complications associated with the plastic mesh.
Serious Complications Associated with Surgical Mesh Products:
Infection
Extreme Pelvic Pain
Bleeding
Dyspareunia
Erosion/Protrusion of Mesh through the Vaginal Wall
Vaginal Scarring/Deformity
Multiple Surgeries to Remove imbedded mesh
Urinary Problems
Recent studies indicate that about 10 percent of women who have the mesh placed transvaginally experience mesh erosion within 12 months of surgery and that more than half require additional surgeries to remove the mesh. Mesh erosion can require multiple surgeries to repair and can be debilitating for some women. In some cases, even multiple surgeries will not resolve the complications.
Thousands of women suffering pelvic organ prolapse are treated with plastic mesh each year, but reports indicate surgery can often be performed safely and effectively without the need for mesh. The FDA plans to convene an advisory committee of experts this Fall to determine whether to ban the mesh. If you are considering this type of surgery in the near future, be certain to ask your doctor if mesh will be used during your surgery. Also, talk to your surgeon about all available treatment options, including surgical repair without mesh and non-surgical options.
Mesh products first came on the market in the 1950s for use in hernia repairs. In the 1970s, surgeons began using the mesh "off label" for abdominal procedures, and for vaginal procedures in the mid-1990s. Under the FDA's controversial 510(k) approval process, the agency granted approval for using the mesh in vaginal procedures in 2002 without requiring new studies demonstrating their safety or effectiveness since mesh products were already in widespread use and were "substantially equivalent" to mesh products already on the market.
Manufacturers/Model Names of Vaginal Mesh Products
The serious medical problems associated with vaginal mesh have not been associated to just one particular brand of mesh. If you are uncertain the type of mesh that was used during your surgery, you should contact your surgeon. Also, if you have any signs or symptoms of extreme pelvic pain, you should see your physician immediately for evaluation.
Tampa Vaginal Mesh Attorneys
If you or a loved one have suffered a serious complication following mesh-repair surgery for pelvic organ prolapse or stress urinary incontinence, please contact an experienced Tampa vaginal mesh attorney at Alley, Clark & Greiwe for information about your legal rights.
Consumer Information on Vaginal Mesh Claims