Hip Implants - Stryker Hip Recall
Stryker Announces New Hip Recall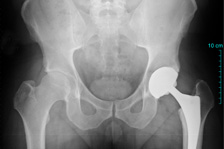 Stryker Orthopaedics voluntarily recalled its Rejuvenate and ABG IImodular neck hip implant stems on July 4, 2012. This voluntary recall was initiated due to widespread problems including pain, swelling, and tissue damage associated in patients with these metal-on-metal modular neck stems. According to Stryker, the risks include the potential for "fretting" and/or corrosion around the modular-neck junction which may result in adverse local tissue reactions. Post-market surveillance showed that a significant number of patients were having a premature failure of their hip. Patients with the recalled hip implant components should schedule an appointment with their orthopedic surgeon immediately if they are experiencing pain and/or swelling at the local joint site which may be a sign of a malfunctioning hip implant.
Tampa Stryker Hip Recall Attorneys
The law firm of Alley, Clark & Greiwe represents a large number of clients who have been injured by defective metal-on-metal hip replacement devices sold by various manufacturers. For the past two years, there has been much concern that all-metal hip replacement devices are causing serious injuries to patients and account for a high failure rate. If you or a loved one have been implanted with the recalled Stryker hip implant components, please contact the Tampa Metal Hip Implant Attorneys at our firm for a free consultation about your legal rights.
Helpful Consumer Resources: