Metal-on-Metal Hip Implant Litigation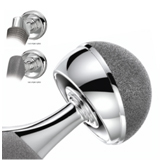 Tampa Metal Hip Implant Attorneys
A hip joint is a type of "ball and socket" joint, and total hip replacement involves replacing both parts at once with a prosthetic implant. Several years ago, metal-on-metal hip implants became popular because the metal was thought to be more durable than traditional hip implants made of ceramic or plastic. More recently, some orthopedic surgeons have soured on metal-on-metal hip implants. Studies have shown that metal-on-metal hip implant components wear down quickly and generate metallic debris that can cause pain, inflammation, swelling, tissue damage around the joint, and bone destruction in some patients. In April of 2010 British regulators issued an advisory on the metal debris generated by hip implants. The FDA is said to be meeting soon with professional medical groups to discuss the British advisory on metal hip implants.
NBC Nightly News Segment on Metal-on-Metal Hips (Broadcast date: October 4, 2011)
Recent ABC News Report on DePuy ASR Hip Implant (Broadcast date: December of 2010)
Metal-on-Metal Hip Implants Linked to Cobalt Poisoning and Other Serious Health Concerns
On October 29, 2010, The Journal of Bone and Joint Surgery published a study of two cases of cobaltism in patients who were implanted with the now recalled metal-on-metal DePuy ASR hip implant. Cobaltism, or cobalt poisoning, blocks cellular metabolism and can damage multiple organs. Consequences of cobaltism include tinnitus, vertigo, deafness, blindness, optic nerve atrophy, convulsions, headaches, peripheral neuropathy, cardiomyopathy, and hypothyroidism. The two 49 year-old patients in the study developed hip pain resulting from periprosthetic metallosis (the build-up of metallic debris in the soft tissues of the body from wearing of the metal hip) as well as neurological and cardiac symptoms due to significantly elevated serum cobalt levels. There have been multiple case reports of cobaltism related to metal-on-metal hip implants, and the diagnosis is now referred to as arthroscopic cobaltism.
Neurological or cardiac damage caused by high cobalt levels is, in part, reversible with timely revision surgery. Unfortunately, revision surgeries have been complicated by joint instability. Joint instability has been reported to occur more frequently in hips that are revised because of tissue damage caused by metallosis.
How do you find out if you have a metal-on-metal hip implant?
Contact your orthopedic surgeon or the hospital where the surgery took place. If you are unable to determine the type of hip implant you received, we will provide you with a release form to sign so that we may obtain the brand name and model number of the hip implant that you received.
Tampa Metal Hip Implant Attorneys
The Tampa metal hip implant attorneys at Alley, Clark & Greiwe have extensive experience in representing persons injured by defective joint replacement products and other defective medical devices. If you or a loved one have been implanted with a metal-on-metal hip implant and have undergone revision surgery or suspect that you may need to undergo surgery in the future, please contact a skilled Tampa metal hip implant attorney at the law firm of Alley, Clark & Greiwe for important information regarding your legal rights.
Consumer Resources on Metal-on-Metal Hip Implants